E2L's mission is to develop and empower urban youth as emerging student leaders who will positively influence their families, schools, communities, and the world.
The four Fifteen program core values around which the curriculum is based – character, commitment, service, and lifelong learning, are the cornerstones on how we help accomplish our mission.



"Fifteen" Program Fall Update"
Our new Class of 2020 interviews are being held at Osborne, Maynard Jackson and South Atlanta High Schools this month!



Topics that we are covering in our Saturday sessions this week:
"Attitude of Service" Serving others is a way to build our communities and improve our nation. Achieving our vision of a better community and world starts with us.
"Establishing My Brand" The power of branding is all around us. Whether we realize it or not, every choice we make builds our personal brand.
"Managing Social Media" Just like a footprint on the beach, your social footprint follows you wherever you go, consider carefully before posting!
Graduation Celebration


"Fifteen" Program's
Senior Class of 2017
Annual Graduation Ceremony
Saturday, May 20, 2017
11am-12:30pm
reception to follow Georgia Tech
Klaus Building, Auditorium 1443

KEYNOTE SPEAKER: DAVID M. WALKER, ESQ.
E2L Entrepreneur Training Program
Over the past few months, Essential2Life (E2L) has had the opportunity to partner with

Operation HOPE, Inc., to introduce to our Junior class the idea of turning a personal interest, dream and skill into a viable business idea and the art of pitching that idea. This course was taught by local professionals and business owners and helped our young leaders develop skills in public speaking, critical thinking, and project management amongst others.Our young leaders first completed a 15 hour Hope Business In A Box Academies (HBIABA) Entrepreneur Training Program.
Now, upon completion of the entrepreneur training, our students have the opportunity to participate in our "Pitch Competition." Each participant will be given 2 minutes to pitch their business idea to a panel of judges. At the conclusion of the pitch event, winners will receive an HBIABA business start-up kit and up to a $500.00 grant to purchase the materials and supplies required to transform their winning idea into a fully operational business. Pitch Competition winners will also be aligned with a Business Role Model who will provide the necessary technical support to launch their winning idea into a business.

FIFTEEN Leadership Program
Our FIFTEEN leadership and life skills development program carries metro Atlanta high school students through a 3-year interactive curriculum focusing on core values of character, commitment, service and life-long learning. FIFTEEN develops emerging leaders and well-rounded individuals who take ownership of their future and promote social responsibility within their communities.
Impact Report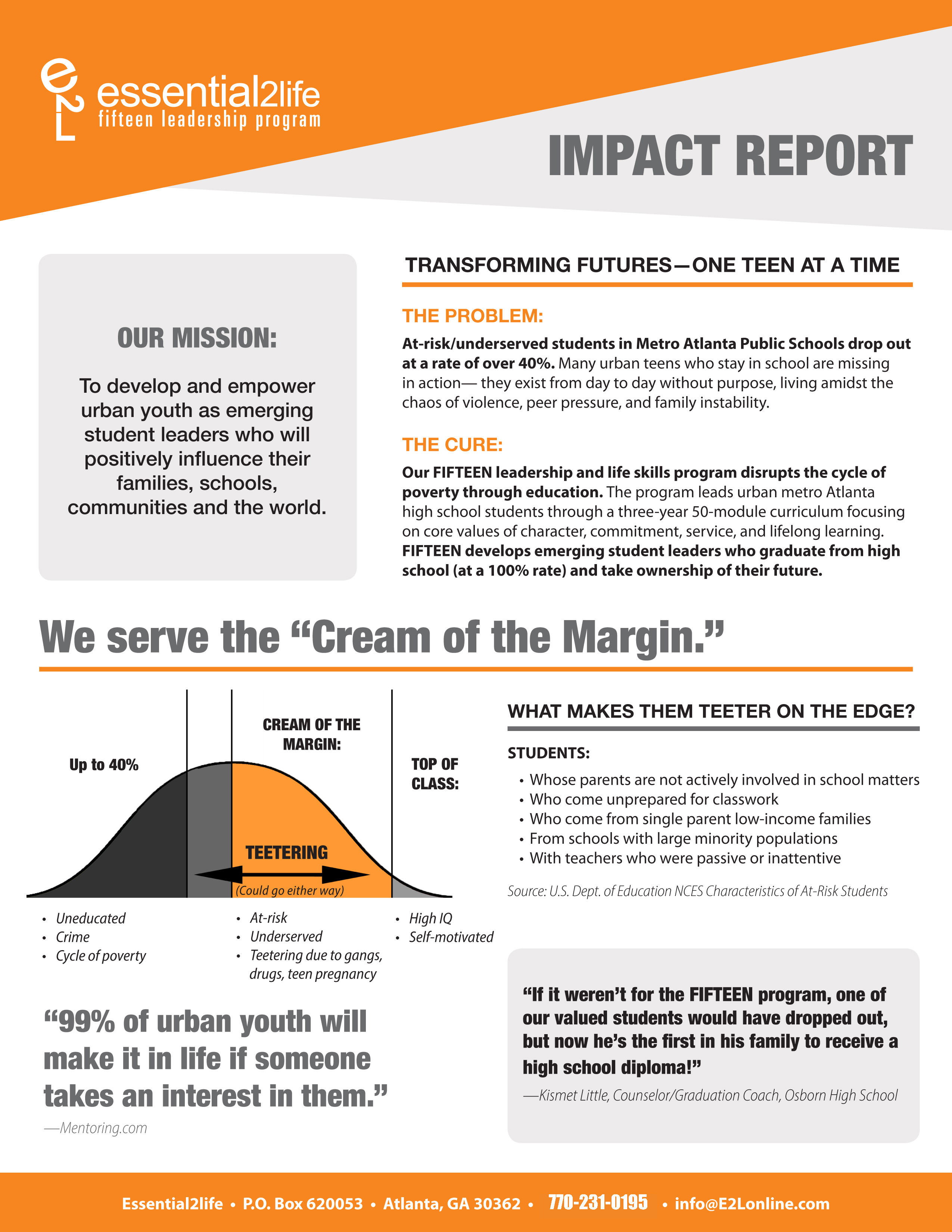 College Access
We prepare students for post-secondary success and help them gain access to leading public and private universities.