FIFTEEN Program
The FIFTEEN leadership and life skills development program is the premier program for E2L. FIFTEEN carries students through a three-year interactive curriculum focusing on core values of character, commitment, service, and life-long learning, during which they learn social responsibility, self-awareness, leadership, and life skills.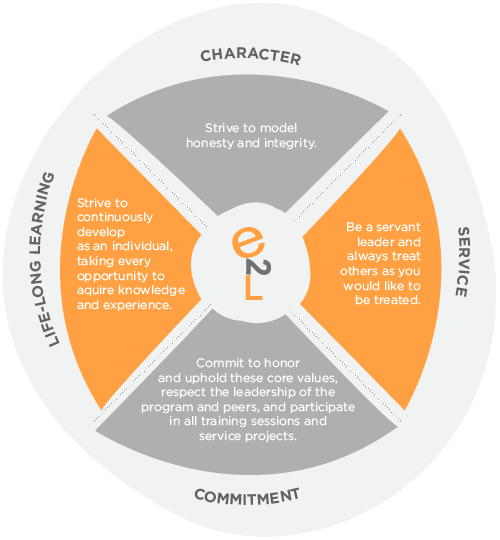 Goal
The goal of FIFTEEN is to develop emerging leaders within public high schools and, as a result, to produce well-rounded individuals who take ownership of their future and who promote social responsibility within their communities.
Objectives
Teach Leadership Development
Students learn skills that foster leadership development. The program focuses on character, communication, commitment to excellence, work ethic, lifelong learning, and creativity.
Promote Social Responsibility
Students are empowered to transition from observers to leaders who inspire change within their schools and communities.

Foster Self-Awareness
Each student is unique, and we will help them identify and develop their individual strengths.

Build Positive Relationships
Students are paired with a mentor who will serve as a positive role model and life coach. Mentors build participants' relationship skills and provide a strong network of support and encouragement.

Create Vision
Students learn how to create and cast visions for their lives. They learn the importance of setting and attaining goals.
Current Schools Served
FIFTEEN is a metro Atlanta program that is currently seving students from two Atlanta public schools (Marnard Jackson High and South Atlanta High and Osborne High School in cobb county. Our goal is to expand the program to serve students at additional metro Atlanta high schools.
Structure
FIFTEEN is a three-year commitment. Students begin the program in their sophomore year and continue through the end of their senior year. Sophomores are selected through an application and interview process after being recommended by teachers, counselors, and faculty.
FIFTEEN runs in conjunction with the school calendar year. Classes meet either bi-weekly or weekly depending on the partnership with the identified school. Each class has a team lead and volunteer facilitators at each session, to keep the classes interactive and engaging.
As a part of the program students will:
Learn leadership, communication, teamwork, and life skills using an accredited leadership curriculum

Apply learned skills through service and community projects

Interact with influential leaders, coaches, and communicators

Take field trips to colleges and centers of culture in the city or region

Be paired with an adult mentor

Will undergo training and preparation for college/entrance into the workforce

Be given opportunities to participate in internships and job shadowing with local businesses (optional module)

Participate in an optional summer retreat / end-of-the-year trip

Develop a life plan
Expected Program Outcomes
10.1% increase in GPA.

100% High School graduation success rate.

85% students in post-secondary education.

5% Enlist in the Military

Each student will be able to:
Explain why participating in service is critical to leadership development.

Utilize skills learned in the program to assess the culture of the student body and the organizations they are involved in.

Score higher on each of the five exemplary practices of leadership scores on the Student Leadership Practices Inventory as compared to their scores when they began the program.

Plan for the future with stated goals and action points.

Explain how their experiences are related to their involvement in FIFTEEN.

Discuss the importance of integrity and morality as a leader.

Identify ways they worked as a team and explain the benefits of doing so.

Reflect on their leadership development through planning and executing a variety of projects.

Identify ways they can develop as leaders and develop a plan to continue to grow after leaving the program.

Develop financial responsibility.

Reflect on ways they were assessed, challenged, and supported through the program.

Identify ways they can develop leadership in others and help them ascertain direction in terms of leadership.

Discuss what their goals are in terms of leadership on campus and in the community after they leave the program.

Be prepared to pursue higher education/chosen career path.